New Year's Resolutions with Kids
The new year offers a fresh start for us all—kids included! New Year's Resolutions are a great way to teach children about setting goals and sticking to them. Both of which can be challenges for everyone! If you haven't done so already for 2018, sit down with your children and help them make a New Year's Resolution (or two!). Here are some tips on how to be successful:
This is especially important to recognize with children in foster care. The open line of communication and an opportunity to hear what there goals wants and desires for the new year will be.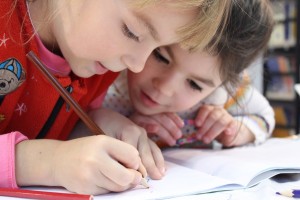 1. Explain what a New Year's Resolution is and why people make them in language that they will understand. You might say something like "A resolution is a promise to yourself to do something better or try harder with certain behaviors."
2. Share your own New Year's Resolutions- children love to imitate adults. Sharing some of your own commitments to yourself for 2018 will help your child with their comprehension of a resolution and it will show them you are committed to bettering yourself too. (And showing kids that adults have flaws and can acknowledge them is a good thing!) They will want to create a resolution to be just like you!
3. Create a list of possible resolutions together with your child. They might need some guidance and assistance with this part. You can make suggestions to get them started but let your child take the lead once they understand. The commitment to change will be more effective if they have identified the area for work themselves.
4. Narrow down the list to one or two resolutions- too many resolutions is not reasonable to tackle all at once. If your child is excited about numerous resolution ideas, have them pick their one or two favorites to start and offer to return to the list once the first two are achieved.
5. Get specific and break down your child's resolutions. If you child wants to improve their reading skills, help them identify a specific task they might do to reach this goal, such as reading 15 minutes a day.
6. Get creative! Reminders of goals and commitments to ourselves is key. Having your child draw a picture, write down a word or phrase, or create some visual reminder of their New Year's Resolution is a fun way to help them take ownership and stay committed. Click here for a fun activity to do together with your child to create a reminder of their New Year's Resolution (or any goal).
7. Check in about your child's progress with their New Year's Resolution (without nagging or guilting your child). The "keeping" of resolutions is often the hardest part! Remind your child in the morning of their commitment to themselves. Better yet, ask them to tell you about their resolution again and how they will keep it today. At the end of each day, ask them how they did with their resolution, empathizing that change is hard and usually takes time to fully achieve. Always be encouraging if your child did not fully meet their commitment for that day. Remind your child that tomorrow offers another opportunity to keep their resolution!
8. Ask your child to hold you accountable too! Again, kids love to be imitating adults. If you ask your child to help you keep your resolution by checking in with you about it, they will get excited about the idea of helping you. It also teaches children that everyone needs support and help with sticking to new goals and commitments because change is hard!
9. Celebrate small victories. Find the success and positive in progress your child has made whenever possible and provide lots of praise for the small steps they take along the way.
Good luck and remember to keep it fun!
What did your kids decide to commit to? Share your experiences with us below!
Here are some other helpful articles on making New Year's Resolutions with children, including ideas for age appropriate resolutions and free printables to help with resolution-making:
https://www.parents.com/holiday/new-years/resolution/new-years-resolutions-kids-made/
https://www.healthychildren.org/English/news/Pages/Healthy-New-Years-Resolutions-for-Kids.aspx
http://www.pbs.org/parents/holidays/making-new-years-resolutions-child/
https://www.teachervision.com/holidays/new-years
https://www.popsugar.com/moms/New-Year-Resolutions-Kids-44369157