A Forever Home for the Holidays
A loving family around the holidays is the best gift we can give to our children, including those in foster care. Recently, one of our most deserving kids received the forever family he has so truly desired. JJ's Christmas wish came true when, Peggie Hargrove his foster parent of 2 years, made him a permanent part of her family. JJ was placed in Ms. Hargrove's home after having several placement changes and a previous failed adoption that caused him to return to foster care. Peggie's decision to adopt JJ was based on the bond they developed while he was apart of the Families First Therapeutic Foster Care program. Peggie credits the support provided by her In-home Clinician for JJ's success in her home. Peggie and JJ established a relationship that grew to an understanding of his needs, one of which was family stability.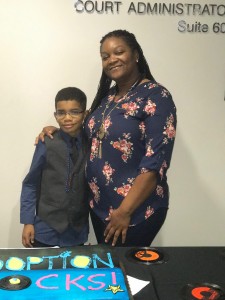 JJ was one of many children in foster care looking for a forever home this holiday season. Fostering to adopt provides a reasonable alternative to costly private adoptions.  The Davis Thomas Foundation on Adoption provides a comprehensive outline of adopting a child from the foster care system. Some of the most frequently asked questions are listed below:
Who are the children in foster care?
Children enter foster care through no fault of their own. As victims of child abuse, neglect and/or abandonment, they are removed from their homes because their birth family is unable or unwilling to provide safe environments for them. Ages range from infant to teen, although the average age is seven and a half. Virtually every race, ethnic group and socio-economic category is represented. Some children are waiting alone and others are waiting with siblings.
Is adopting from foster care expensive?
Adopting from foster care is affordable. Most child welfare agencies cover the costs of home studies and court fees, and provide post-adoption subsidies. Thousands of employers offer benefits for employees who adopt and Federal and/or state adoption tax credits are available to most families.
Is adoption from foster care permanent?
Yes. Adopting from foster care is permanent. Once a child is adopted out of foster care, the birth parents cannot attempt to claim the child or fight in court for his or her return. A family formed through foster care adoption is forever.
Have more questions about becoming a foster parent?
Please contact our office at 813-290-8560